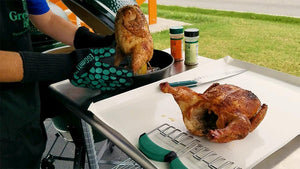 Wine-Butt & Beer-Butt Chicken on the Big Green Egg
---
Novelty aside, beer-butt chicken is the easiest way to roast a perfectly cooked bird — no flipping, rotisserie, or special pan required.
If wasn't enough, in our video we take the classic beer-can chicken method to a whole new level with the addition of... a can of wine!
Whether you prefer Pinot Grigio or India Pale Ale, we've got your new favorite technique for a succulent bird on the Big Green Egg.
---